Driving Impressions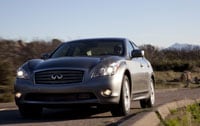 We found the 2011 Infiniti M56X, equipped with all-wheel drive, Deluxe touring package, and Technology Package, to be a very high performer. The added weight of the all-wheel-drive system is more than overcome by the additional 95 horsepower and 81 foot-pounds of torque from the new, larger engine and the deeper gearing in the silky-smooth, quick-shifting 7-speed transmission.
One drawback for both the V6 and V8 versions is that both of these more powerful engines require premium fuel.
The 5.6-liter V8 engine's sound is muffled back to provide the car with a luxury feel, and the 7-speed double-overdrive transmission certainly lowers engine rpm at highway speeds; nevertheless, the throttle response is extremely quick, and the M56 accelerates with authority. And it does so quietly. This is not the 5.6-liter V8 used in the Nissan pickup trucks. Rather, is a larger version of the Infiniti 5.0-liter V8, the division's first engine fitted with direct fuel injection cylinder heads and other technologies such as variable valve timing and intake valve lift, and a variable intake tract, yielding a combination of low-end torque, high-rpm power, and very good fuel economy for an engine this size in a heavy luxury car.
The M56X has a heavy steering feel aided by its heavier nose weight and tendency to understeer, but it acquits itself quite well on curvy roads, with lots of help from the suspension system, which uses mechanical twin-piston shock absorbers instead of electronic ones. It's plush and sporty at the same time without the harshness added by the 20-inch tires and wheels that come with the Sport package.
We found the braking to be exemplary, with a nice, high pedal, progressive actuation, and excellent ABS performance on panic stops. The standard brakes on our M56X were 12.6 inches front and 12.1 inches rear, but the Sport package brakes are huge: 14 inches front, 13.8 inches rear. Infiniti M brakes come with ABS, Electronic Brake-force Distribution and Quick Brake Assist.