Walk Around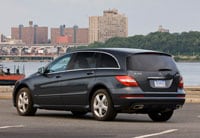 The 2011 R-Class has the sports-car grille with the central star, a set of three flowing lines from front to rear on the body, and a refreshed design in a thoroughly modern idiom. In the wind tunnel, it's slick enough to generate a 0.35 coefficient of drag, better than many lower-riding, rounded-off passenger cars and better by far than most of the SUVs against which it will compete. In many markets, things like PreSafe, adaptive headlamps, and the new intelligent lighting system (ILS), all class exclusives for the R-Class, will be standard or optional equipment.
Interior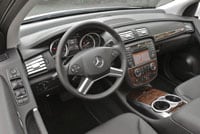 Inside, the R-Class is a Mercedes-Benz through and through, but with some new features added, such as the central controller on the console for combined control of the sound system, navigation system, and telephone. There's a much more angular, purposeful instrument panel and dashboard layout. All of the dashtop panels in the R-Class will be anti-glare black, regardless of the interior color scheme (black, tan or gray). If there's a big negative in the R-Class's daily-use duties, it's the interior space, or lack thereof. Mercedes-Benz told us that the total interior space inside the R-Class is less than the C-Class station wagon we don't get in this market.
When loaded up to the top edge of the rear-seat backrests, the load compartment of the R-Class has a capacity of 15.2 cubic feet. The rear-seat backrests fold down in a 33/67 split or folded down completely to produce a flat load floor. Folding the second seat flat produces 42.2 cubic feet of load capacity, and all seats down yields a cargo capacity of 85 cubic feet, with a load compartment measuring 66 inches (5.5 feet) long.
The load compartment can be hidden from sight thanks to the load compartment cover, while load-securing rings make it easier to fasten down items of luggage. There are also bag hooks, hooks in the tailgate trim, a 12-volt power outlet and a lamp at the side of the load compartment. Standard equipment also includes an additional 86-liter stowage compartment under the fold-up load compartment floor. The compartment is split into smaller partitions by a removable stowage tub. Optional features include the safety partition net as well as the power tailgate, which can be opened and closed at the push of a button, either from the driver's seat or by remote control.